Payroll in the European Union
Relocating a business to the European Union eventually comes with certain challenges, including navigating your way through labour tax policy, payroll taxation, minimum wage requirements, and tax calculations. Thankfully, the European Union has a very efficient and straightforward system for making payments, and each country established clear payroll rules. Scale Office provides clients wishing to expand to a new market with bookkeeping, recruitment, accounting, payroll, and tax registration services online, allowing them to outsource various financial services to a trusted partner.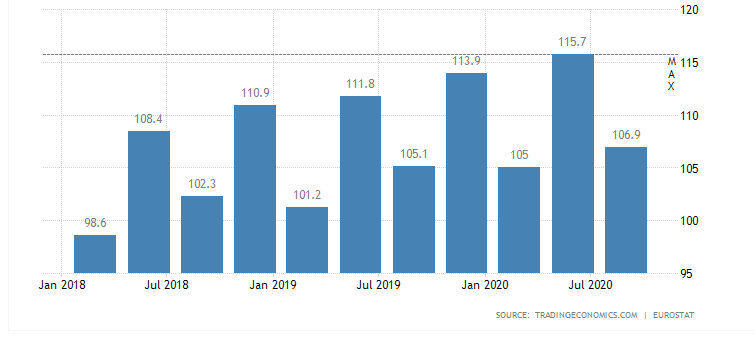 The Labour Cost Index in the European Union is a short-term indicator showing the development of hourly labour costs incurred by employers, in nominal terms, that is without adjusting for price developments. It is calculated dividing the labour cost in national currency by the number of hours worked.
Payroll taxation in the European Union
Hiring local workforce comes with certain legal and financial questions. First of all, taxation rules are generally straightforward both for the EU citizens and for foreigners. Employees are usually only taxed in a country where they are classified as tax residents. According to Your Europe, one becomes a tax resident of the country if he resides there for more than six months in one year.
As of 2019, the average amount of payroll taxes in the European Union averaged at 33 EUR per 100 EUR gross salary according to Statista. Countries with the highest payroll taxes were Sweden (48 EUR), France (46 EUR), and Italy (41 EUR). Countries with the lowest payroll taxes were Romania (5 EUR), Lithuania (6 EUR), and Malta (8 EUR).
The income tax is another significant factor for assessing labour costs. In 2020, the personal income tax value decreased across the union by 0.9% to an average of 37.10%. 
To understand the makeup of the European payroll, it is useful to take the Czech Republic as a case study. In the Czech Republic, there is an income tax of 15% with 11% social contributions of gross salary made by the employee to health insurance and pension. The employer's contribution is 34% – with contributions made to pension, sick insurance, unemployment insurance, and health insurance. The corporate tax is valued at 19%.
Working standards in the European Union are defined by Your Europe as follows:
Maximum of 48 average hours of work per week

Minimum of 11 consecutive hours of rest per day

Minimum of full 24 consecutive hours of rest per week

Minimum of 4 annually paid weeks of holidays
Overtime compensation details are outlined by individual countries and governed by local laws. For example, in the Czech Republic, overtime hours are compensated at a minimum rate of 25% exceeding the normal rate. Weekend and night shifts are compensated at a minimum rate of 10% exceeding the normal rate.
Labour costs in the European Union
Labour cost significantly varies across the European Union with some countries offering very cheap workforce and others – very expensive. Eurostat estimates 2019's average hourly labour cost rate to be 27,7 EUR in the entire union. The highest hourly labour costs are seen in Denmark (44.7 EUR), Luxembourg (41.6 EUR), and Belgium (40.5 EUR). The lowest labour costs can be found in Bulgaria (6 EUR), Romania (7.7 EUR), and Lithuania (9.4 EUR).
Similar trends concern the average gross hourly earnings across the EU – Eurostat reports that the lowest country's average gross hourly earnings were 11 times lower than the highest country's hourly earnings. For example, the lowest values were seen in Bulgaria (2.4 EUR) and the highest in Denmark (27.2 EUR).
Another important factor concerning labour costs is tax wedges on labour. These variants also differ across the union. OECD defines tax wedges as "measures of labour costs which are taken in tax and social security contributions net of cash benefits". The average tax wedge across the OECD countries for a single employee is 36%. As of 2019, the highest tax wedges can be found in Belgium (52.2), Germany (49.4), and Italy (48.0). The lowest tax wedges in the EU can be found in Ireland (32.2), Denmark (35.4), and Poland (35.6). For the OECD countries, the tax wedge for a single employee decreased since 2000 by 1.4 %.
The payment system in the EU
The European Union makes it easy for companies operating in participating countries to compensate their workers through a single system known as SEPA. Following the implementation of a single euro currency, the EU introduced a system of electronic payment schemes under SEPA for its member states and several other areas, including Norway, Monaco, Lichtenstein, Iceland, San Marino, Switzerland, and the UK. These schemes are known as the SEPA Credit Transfer (SCT), Direct Debit SDD), Core, Business-to-Business and Instant Credit Transfer (SCT INST). The first two schemes are used for every euro currency credit and direct transaction across the SEPA members. SCT INST is also growing in popularity, as it allows for instant transactions. The system is improving by incorporating new technology and online payments. Due to a unified set of standards provided by SEPA, businesses should find it easy to operate in a single payment market regardless of their exact Schengen-area location.
Outsourcing payroll
Outsourcing payroll, accounting, and bookkeeping burdens allow the entrepreneurs to save time, ensures complying with the legal framework, and provides them with an opportunity to focus on the internal operations of the business. With a reliable partner, outsourcing becomes a safe, efficient, and preferred way of dealing with payroll in the new market. It is crucial to find an agency which understands and respects the strategic values of the company and is keen to help with reaching the set goals.
How can Scale Office help you?
Payroll taxations solely depend on the individual member state of the European Union, and the rules might differ quite significantly. Scale Office has a long-standing reputation providing payroll and accounting services to companies wishing to expand into new markets. Scale Office has provided similar service to such businesses as RKS, Varzene, Odine Solutions, Artekya, and many others. Shall you wish to enter a new country, Scale Office can help you by:
Supporting you with the incentives procedures and application for funds.

Recruiting your local employees.

Providing accounting, bookkeeping, and payroll services.

Providing access to an online platform that enables you to manage your European company from anywhere.